Each book is packed with over 200 pages, 130 pictures and at least 50,000 nostalgic words on everybody's favourite entertainers from that bygone era of comedy when no comic worth his salt would stoop to the use of obscenities for the sake of a cheap laugh. An era rich in quality twice-nightly entertainment.


<![if !vml]>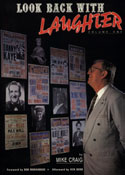 <![endif]>With a brilliant Foreword by Bob Monkhouse and an Afterword by Ken Dodd Volume One looks at the 'Comedian's Comedian' - Jimmy James, that Master of the 'Comedy of Life' - Al Read, 'Can You Hear me Mother' himself - Sandy Powell, the under-rated -Tom Mennard and the man, who during the war, was the 'Nation's Favourite' - Robb Wilton. Because, maybe like you, I listened to the radio when the radio used to be on the wireless, I have devoted a chapter to my favourite medium - 'Me and My Wireless', plus a chapter on the Variety Theatre which introduced me to laughter - 'The Good Old Dewsbury Empire' (this incorporates 2,000 words<![if !vml]>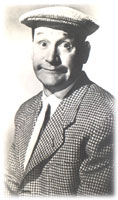 <![endif]> on the man who was responsible for that laughter, my hero - Albert Modley) Finally, 'A Laugh on the Ocean Wave' - a chapter about my eighteen years lecturing on comedy on board some of the best cruise ships in the world.





<![if !supportLineBreakNewLine]>
<![endif]>

<![if !vml]>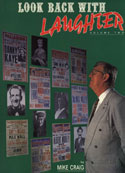 <![endif]>Master Magician Paul Daniels was kind enough to take time off from sewing sequins on Debbie's latest frock to write the Foreword for Volume Two. One of television's most successful producers, John Fisher did me the honour with a much appreciated Afterword. I offer to you chapters on unquestionably some of the funniest men we have ever produced. Surely no one would argue about the comic genius of – Eric Morecambe. Also a chapter on another comedy genius, but one whose rebellious streak did him no favours, the unpredictable Frank Randle. Then, our most versatile performer and a true gentleman of Show Business, Roy Castle. Three of the comedy greats I have written about have been close friends of mine, Eric, Roy and the one and only – Les Dawson, who left school at fourteen and clawed his way up the ladder of fame to become one of our Comedy Giants. I have written a chapter about my own writing and producing career entitled – 'The Grumbleweed Experience'. Rochdale's own Norman Evans of 'Over the Garden Wall' fame and more 'Laughs on the Ocean Wave' bring to a close a book rich in laughter.
<![if !vml]>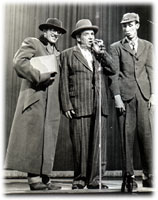 <![endif]>
And if you don't find the Jimmy James 'Box Routine' funny - don't bother ordering anything!
<![if !vml]>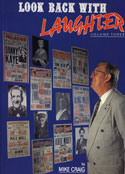 <![endif]>Volume Three reminds you yet again how old you are getting! Dame Thora Hird has written the Foreword and Roy Hudd, the Afterword. There are eight chapters on - Ted Ray, who topped the bill at the London Palladium in 1932 and went on to star in one of radio's biggest successes – 'Ray's a Laugh', a man who was a household name to four generations, the inimitable - Arthur Askey. The first lady performer I have written about, a giant of the theatre and another friend of mine - Beryl Reid. And having written about one lady, I then write about another! Someone who played Variety and made the transformation into a very successful television actress - Jill Summers. Another friend and Brother Water Rat (and you wouldn't meet a nicer chap in a days march), the 'Prince of the Wide Boys' - Arthur English. And yet another friend, another Water Rat, a man who created a great character - Cardew 'the Cad' Robinson. All these chapters are packed with memories, anecdotes and routines. There is also another 'Laugh on the Ocean Wave - Mark 3' and a chapter on one of my favourite comedy subjects, it's called <![if !vml]>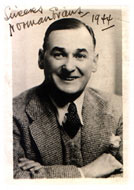 <![endif]>'For Better....or for Worse', in which I take a look at the institution of marriage as seen through comedians past and present. This has given me the opportunity to write about and include famous routines of Nat Mills and Bobby, Burns and Allen, Billy Bennett, Bobby Thompson, Al Read, Tom Mennard and Chic Murray. Truly some great names in this Volume.


<![if !supportLineBreakNewLine]>
<![endif]>
<![if !vml]>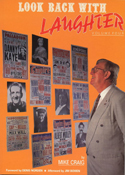 <![endif]>The latest in my series of books brings to your attention over 52,000 words on some of the funniest people Show Business has known. Harry Worth, that fondly remembered bumbling, confused comic genius who started life as a ventriloquist and won his way into our hearts with his unforgettable half hour programme - 'Here's Harry' (You must all remember his 'Arm and Leg' routine in the shop window) Archie Andrews (not forgetting Peter Brough), whose show, 'Educating Archie' provided the springboard to success for so many comedy performers from Tony Hancock to Beryl Reid and Max Bygraves to Benny Hill. Then there's the great Dave Morris, a man way ahead of his time - and a whole chapter on my own hero Albert Modley. I wrote about Albert in Volume One, but now he gets a chapter to himself and 'Lancashire's favourite Yorkshireman' certainly deserves it… 'Eeeh, in't it grand when yer daft?' And, talking of catch-phrases, if the words 'I won't take me coat off – I'm not stopping' mean anything to you, then you'll love the chapter on Lancashire's own Ken Platt, plus a chapter on one of my favourite comedy subjects entitled - 'Where's there's a Will, there's a Relative!' And 'Top of the Bill' - the double-act who played Blackpool for fourteen Summer Seasons and whose radio show 'Up the Pole' was top of my listening list - Jewel and Warriss. The Foreword has been written by one of our very best comedy writers - Denis Norden and the Afterword by the one and only Great, Super, Smashin' man himself - Jim Bowen.
<![if !supportEmptyParas]> <![endif]>
In his Foreword to Volume One, Bob Monkhouse says - 'How we've begged for, patiently awaited, and gleefully anticipated this book. No one but Mike Craig could tell it so well'
The books have been described as... 'A cornucopia of twentieth century comedy'. No matter who was your favourite you will have seen them at your local Hippodrome, Empire, Palace or at the very least heard them on your wireless set. I have attempted to enable you to relive the jewels of that 'Golden Age of Comedy'.

<![if !vml]>
<![endif]>

The comedy routines within the pages of these four volumes are timeless and for anyone who loves 'rib-tickling humour' these books hold so many treats in store"

I hope I have the pleasure of hearing from you.
'Can you hear me, Mother?'
T.T.F.N.
<![if !supportEmptyParas]> <![endif]>
<![if !supportEmptyParas]> <![endif]>